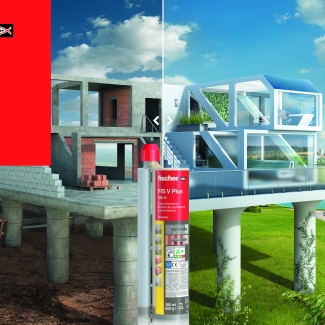 fischer's injection mortars offer maximum performance even under extreme conditions, whether it be fastenings in masonry or concrete, on large construction sites or DIY projects, in the blazing sun or in heavy rain. Comprehensive advertising materials from an ongoing marketing campaign for both chemical fixing solutions, FIS V Plus and FIS V Zero, highlight the above. 
'Built for a strong future,' it says on the advertisement for the FIS V Plus, the strongest universal mortar by the fischer Group of Companies, which offers advantages with comprehensive approvals and many potential applications. The chemical fixing can be used for all purposes and has an assessed (ETA) service life of 100 years in concrete. There's also its bond strength in concrete, which is up to 45 per cent higher in the fixing specialist's latest generation of universal mortars than in predecessor products, providing maximum safety for an entire century.

The FIS V Zero's slogan is 'built for a green future'. With its innovative, special formula, the fischer injection mortar offers maximum safety for people and nature. The chemical fixing solution meets maximum occupational health and safety requirements and is classified as "label-free" in accordance with the CLP Regulation. The FIS V Zero is approved for fastenings in cracked and non-cracked concrete, masonry as well as post-installed rebar connections. Thanks to its novel formula and innovative ingredients, cartridges that haven't been fully used can be disposed of with the usual household waste without issue, avoiding the costly disposal of hazardous waste. 

The campaign's video shows a tradesman who pulls up his sleeves and dives into the world of fischer's universal mortars. Using both injection mortars combined with other fixing solutions by fischer, he goes through the products' various potential uses which involves working on the construction phase with masonry and anchorages with a low edge spacing, fastening steel structures and installing indoor fitness machines. At the end of the clip, the universal mortars FIS V Plus and FIS V Zero feature in the spotlight along with the message saying that they will accompany users into a strong and sustainable future. 

fischer is using the film and the advertising material on its online and social media channels as well as classic print media. Retailers are also being provided with attention-grabbing point of sale materials such as floor displays, shelf stoppers and floor stickers. The current campaign's objective is to interact with the target group, generate project leads and ultimately make the target group enthusiastic about using our chemical fastenings. The marketing campaign focuses on the advantages of the individual products and conveying these to retailers and end users on specially designed landing pages. Both universal mortars therefore have tailored marketing materials that highlight their advantages. The long-term aim is to establish new distribution partnerships, leading to further increases in turnover and cooperation on new projects. 
Wolfgang Pott
Head of Corporate Communications