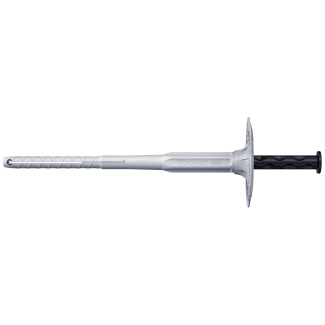 The fixing specialist fischer now offers the new TermoZ CS II screw fixing to anchor ETICS insulation panels made of any kind of material including fire bars into any conventional construction material. This enables simple, time-saving screw mounting with minimal thermal bridges.
Considerable efforts must be made in the building sector in order to attain climate goals by 2030. There is still tremendous potential for saving energy that lies dormant in existing buildings. Facade insulation is a highly effective measure to increase energy efficiency in this regard. But in order to be able to fulfil their function, external thermal insulation composite systems (ETICS) must be professionally installed. Securely anchoring the insulating layer in the anchor substrate with as few thermal bridges as possible is of key importance. The new fischer TermoZ CS II fixing is made for this task. 

The latest addition to fischer's range of ETICS fastenings is multitalented, as it is suitable for fastening insulating panels in any conventional material and thickness on all standard solid and hollow construction materials. The ETICS fixing therefore doesn't need to be replaced if the facade is equipped with various insulating materials such as a fire bar, which saves additional time. Its approval for every building material class (A, B, C, D, E) guarantees its secure application. fischer's TermoZ CS II is therefore also suitable for subsequent insulation on renovated buildings if there is uncertainty about their anchor substrate. Further advantages include the fact that any improper use caused by unsuitable insulation fixings is prevented and users can make do with a single ETICS fixing even if the building has various substrates. The European Technical Assessment (ETA-14/0372) regulates the use of the TermoZ CS II in concrete, masonry (solid and perforated brick), lightweight aggregate concrete and aerated concrete. Thanks to its anchor sleeve with a symmetric expansion zone, the newcomer is the first insulation fixing with an approval for hammer-drilled holes in vertically perforated bricks. The special geometry below the plate (Fibonacci) reduces the required insertion torque for convenient and fast installation. Its upper side features a specialist surface structure for better adhesion to plaster. The closed plate does not allow any dirt to be ejected, providing a clean setting result.

The screw fixing consists of a polypropylene anchor sleeve with a diameter of 8 mm as well as an insulation plate (various diameters) made of glass-fibre reinforced polyamide. The fixing is fastened by inserting the special compound screw made of zinc-plated steel and glass-fibre reinforced polyamide. While the screw is inserted, the anchor sleeve expands to provide a firm anchoring in the substrate. Because the screw is thermally isolated, thermal bridges are minimised so that there is no need for a sealing plug.

Users can opt between flush and countersunk installation. The information provided on the fixing concerning the required total drill hole depth including the insulating material is particularly user-friendly for both types of installation. The necessary bit is indicated on the screw head, which minimises improper use. fischer's setting tool CS can also be used for both types of installation. Depending on the application, it is simply rotated by 180 degrees. The setting tool features a hexagonal adapter while a separate tool with an SDS adapter is available for use with a hammer drill. The screw fixing is inserted into the drill hole through the insulation before it is screwed in until the plate sits flush on the surface of the insulation. The special geometry of the underhead plate reduces the necessary insertion torque during countersunk installation for convenient and quicky installation. To ensure it sits flush, the screw fixing is subsequently covered by a round cap which fischer also offers as a system component. This allows an even plaster layer to be applied without the plug showing through. The TermoZ CS II DT 110V variant with a large plug plate is particularly well suited for soft insulation materials and can be used exclusively for flush countersunk mounting. Its thin plate edge provides an ideal fit against the insulation panel and allows thin reinforcement layers to be applied. 

With its new TermoZ CS II screw fixing, fischer offers system providers a universal insulation fixing that hardly, if at all, impairs the energy efficiency of ETICS and also enables efficient work and rapid construction progress.
Katharina Siegel-Rieck
Press Relations Officer 
fischer fixing systems,
fischer Electronic Solutions