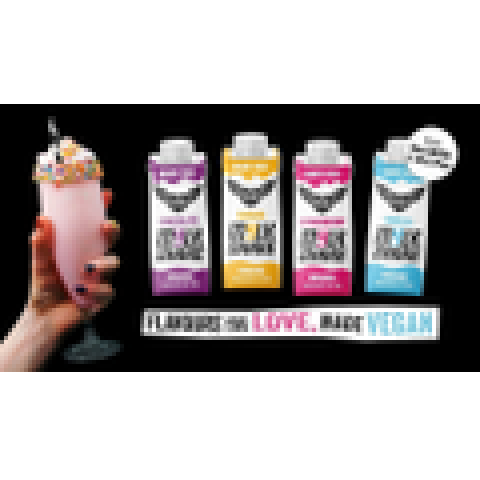 Rebel Kitchen®, part of sustainable snacking and beverage business Nurture Brands, is set to launch a reformulation of their popular Organic & plant-based Mylk Shakes® as Non-HFSS, Nut-Free and will introduce two new flavours of Strawberry & Vanilla. The 250ml range will go live from mid-February as it rolls out nationwide.

The reformulation was focussed on ensuring the brand maintains the proposition that consumers already love - a blend of organic plants with the taste and texture of a real dairy milk shake – whilst removing nuts and adhering to Non-HFSS guidance. Despite only ever using whole and natural ingredients, the previous recipe was slightly out of Non-HFSS compliance due to the natural prevalence of saturated fat in organic coconut cream. With the introduction of other plants in the recipe including Gluten Free Oats (oats being the most popular plant-based milk alternative) and with ingredients like Agave Fibre, the brand offer an even healthier alternative with now an even creamier texture than ever before.

'The final result is a triumph! Our reformulation, which took over a year, has involved a delicate balance of manoeuvring tricky HFSS legislation whilst sticking to our Rebel Kitchen motto to 'Never Compromise' says Adam Draper, Managing Director of Nurture Brands.

The range will also feature two new flavours, Strawberry Mylk Shake® and Vanilla Mylk Shake®, which the brand highlights are two flavours that are lacking in plant-based alternatives for consumers.

 'We now offer the flavours that lead in the category and the classic flavours you'll see at the likes of McDonalds. But, ours are plant-based and only ever made with organic and natural ingredient's' adds Adam.

 A re-launch of Rebel Kitchen Mylk Shakes® will be supported with a trade focussed campaign alongside Social & PR support. The range is currently stocked in Waitrose, Ocado, Abel & Cole, Amazon, CLF, Suma, Wholegood, Hunts Food Group and more.

To stock up and for more information please contact sales@nurturebrands.com and for marketing enquiries please contact amy@nurturebrands.com  

Notes to Editor:

·         Nurture Brands was founded by Ben Arbib in March 2019. The Nurture Brands portfolio is certified B-Corp, Carbon Neutral and commits 1% of net revenue to good causes. Brands include Rebel Kitchen, Myracle Kitchen, The Primal Pantry, Jax Coco, EMILY, Indie Bay, Doisy & Dam and Abakus Foods.

·         Privately owned by Ben Arbib, Nurture Brands' mission is to become the UK's fastest-growing plant-based snacking and beverage business by creating better choices through food, business and beyond.

·         Rebel Kitchen and the rest of the Nurture Brands portfolio, is 100% carbon neutral, commits 1% of net revenue to good causes as a member of 1% For The Planet and are all B Corp certified.