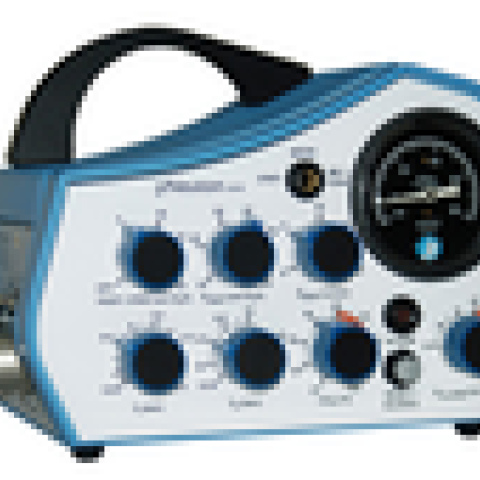 pNeuton mini Ventilator for Neonatal / Infant Critical Life Support Anywhere, Anytime
The pNeuton mini ventilator is a new approach to neonatal, infant and pediatric ventilatory support, and accommodates even the most fragile patients from 400 grams to 25 kilograms.

No Need for Electricity or Batteries
With a built-in oxygen blender, and precise timing & pressure controls, the pNeuton mini matches the complexity of pressure-limited ventilation in standard infant ventilators without the need for electricity or batteries.

A purely pneumatic ventilator supporting patients non-invasively using nasal prongs / masks for CPAP application, or ventilation + CPAP with endotracheal tubes for full support. The ventilator is ideal for transporting patients both within the hospital and via air or ground ambulance.

Neonatal / Infant Applications to Match the Clinical Complexity
For your referring hospital or Labor & Delivery, from the newborn's first troubled breath in the delivery room to optimizing ventilation support for transport.

The pNeuton mini is MRI compatible and can be placed right next to the MRI magnet with a remote alarm for enhanced patient safety.

The pNeuton mini is also compatible with the Life Pulse High-Frequency Ventilator from Bunnell Incorporated, providing conventional ventilation in tandem with the Life Pulse without interfering with high frequency ventilation or nuisance alarms.
Airon Corporation
751 North Drive, Unit 6, 32934 Melbourne, FL
USA
Telephone +1 321 8219433
Fax +1 321 8219443
info@aironusa.com